Who We Are and What We Do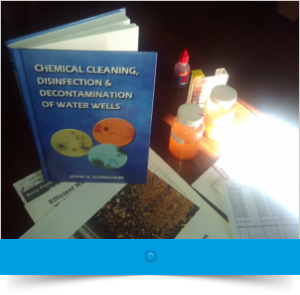 Our laboratory is a diagnostic and investigative laboratory that specializes in microbiology and chemistry. The laboratory offers unique testing and insight into inorganic water chemistry, microbiology, and the interplay of these two areas. WSE's laboratory has developed from an industrial services lab to a full scale diagnostic lab for water wells, surface water plants, filtration systems, corrosion work, and further specialized in interpretation of analytical results and bacterial analysis. We have provided insight into problems associated with a variety of water systems found in municipal, industrial, environmental and private use. In addition to our regular laboratory services, our staff conducts research into a variety of water related phenomena found in well and piping systems in potable, industrial and environmental settings.
Research
Research into the problems impacting groundwater systems, potable water treatment, and industrial water handling continues daily at WSE. Our consulting staff actively participates in local, state, and national forums for the industry, developing new standards, innovative approaches, and testing new theories to identify problems early and develop operational procedures and system designs to reduce maintenance costs, downtime, and failure.
Our in-house laboratory utilizes standard methods for the investigation of water while employing new technology for the identification and assessment of biological conditions.
Whether it is identifying sediments present downhole, scale build-up on heat exchangers, or bacteria impacting water quality, WSE's lab can provide unique insight into these fouling mechanisms.
We are a unique consulting firm and investigative laboratory which specializes in ground water and surface water applications, industrial heating, cooling and water handling systems, and corrosion analysis and control. Our areas of expertise include profiling water from a biological and chemical standpoint, interpreting and evaluating the results and developing protocol for disinfection, rehabilitation and maintenance, as well as system design.
Wells foul, age, and degrade for a number of reasons. With increased limitations placed on new wells, higher energy costs for operation of existing wells, and ever increasing regulatory oversight, well owners are demanding more from their well systems.
Although numerous tests are available for analyzing bacteria, they vary greatly in price and time involved. The best approach is one that accounts for the greatest number of bacteria in an acceptable time frame at a reasonable cost.
Water well systems are designed to pump water for a variety of needs in a variety of locations. Design, construction and pumping rates vary with location and seasonal demand. Wells are designed to meet customer needs with often little respect paid to the needs of the well.